Hospitalizations
A new study shows Nurse Practitioner (NP) visits correlate to a big drop in hospital admissions. Hospitalization rates plummeted 61%, and ER visits fell 64% among a group of patients who received home visits from NPs during a six-month period, according to a University of Rhode Island College of Nursing study. Previous studies show similar results proving that NPs can reduce hospitalizations and close a problematic gap between the hospital and primary care that MDs cannot address alone.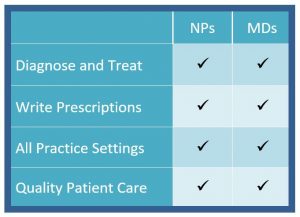 Job Responsibilities
Just like MDs, NPs can autonomously diagnose and treat acute and chronic health conditions; order, perform and interpret diagnostic tests; write prescriptions; and manage overall patient care. According to a recent article in S. News, Ora Strickland, Dean of the College of Nursing and Health Sciences at Florida International University, said that NPs' job responsibilties in specialties such as psychiatry and anesthesiology overlap 80-85% with physicians.
Patient Outcomes
Numerous studies show NPs provide care just as well as physicians. A meta-analysis in Nursing Economic$ compares care from NPs and MDs in 11 different categories where NPs performed equal to or better than MDs in all areas. In 9 categories, the two provider types were equal; NPs outperformed physicians in 2 areas (lower blood sugar levels and lower serum lipid levels); and physicians did not perform better than NPs in any areas. Patient satisfaction, health status, and mortality rates were among the measures in which a high level of evidence indicates health care quality is comparable between NPs and MDs.
To broaden their reach and increase their impact, pharma and medical device marketers must recognize and build relationships with NPs. NPs are a distinct group of prescribers whose quality of care and patient outcomes score just as high as those of physicians. Next time you prepare an HCP marketing plan, make sure NPs are not undervalued.
Please subscribe to automatically receive a notice and link so that you don't forget to read the next topic.