New research published in the Journal of General Internal Medicine has revealed that physicians tend to practice in more affluent areas, while nurse practitioners tend to treat patients in lower income areas with the greatest need for healthcare. In the study using life expectancy as an indicator of the need for healthcare, University of Michigan researchers found that counties deemed the least healthy had approximately 50% more nurse practitioners. In comparison, the areas with the highest income had 30% more physicians and 15% fewer nurse practitioners.
NPs Treat Most Unhealthy Patients
According to Joyce Knestrick, president of the American Association of Nurse Practitioners, the findings from the University of Michigan study "reinforce what we've seen across the 22 states that have modernized regulations to allow patients direct access to nurse practitioner care." She says that nurse practitioners will head to where they are needed most. In other words, NPs treat the most unhealthy patients. An earlier unrelated study by Dr. Kevin Grumbach et al. in Annals of Family Medicine also showed that NPs and PAs are more likely than doctors to practice in rural areas and more likely to treat minority patients. While both nurse practitioners and physicians tend to work at major health care institutions, nurse practitioners also provide a substantial amount of care to community centers where they treat patients dealing with chronic illnesses like diabetes and heart disease.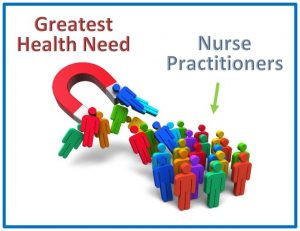 The Correlation Between NPs and Unhealthy Patients?
Previous studies have shown that advanced practice providers like NPs and PAs provide care and outcomes that are just as good as those of physicians. In fact, just one example is a study published in the American Journal of Medicine which found that diabetes care from nurse practitioners and physician assistants was comparable to care from physicians. The findings, based on 19,238 patients with diabetes treated at the Veterans Health Administration, showed patients who had NP-led primary care follow-up had slightly greater reductions in five-year mean hemoglobin HbA1C levels than patients who saw physicians. Therefore, the patients in lower income and lower life-expectancy areas aren't receiving worse care from NPs, but those in low income areas tend to be less healthy overall for other reasons, and NPs are more likely to practice where there is the greatest need.
What Does This Mean for Pharma?
This data should interest pharma marketers especially coupled with the announcement in mid March by the AANP that the number of nurse practitioners has hit a new record high. The AANP's new data shows that more than 355,000 NPs are currently licensed to practice in the United States. So, if your product is indicated for chronic illness or patients who tend to be less healthy overall, chances are high that NPs are treating your target patients – perhaps even disproportionately compared to physicians – and that trend is only going to increase as the number of new NPs grows faster than the number of new physicians in the U.S.
Please subscribe to automatically receive a notice so that you don't forget to read the next topic.