Like MDs, NPs and PAs prescribe in nearly every specialty and practice setting. NPs/PAs are seen for over 19 million Emergency Department visits per year, 40% of which don't involve MDs. Over 20,000 PAs practice in surgery and nearly 10,000 in emergency medicine. NPs and PAs see more patients than physicians for some fields and conditions such as pediatrics, depression and obesity. Most patients put just as much trust in NPs/PAs as they do in MDs. Don't undervalue the large and growing NP/PA prescriber segment.
Here are some common PA and NP specialties, but not all are listed below so if you don't see the one most important to your business, please inquire.
Some of the subspecialties include:
Anesthesiology
Cardiology
Cardiovascular / Cardiothoracic Surgery
Dermatology
Emergency
Endocrinology
Gastroenterology
Geriatrics
Hospital Medicine
Neonatal / Perinatal
Neurology
Obstetrics / Gynecology
Occupational Health
Oncology
Orthopedics Surgery
Pain Management
Palliative
Pulmonology
School Health
Wound Care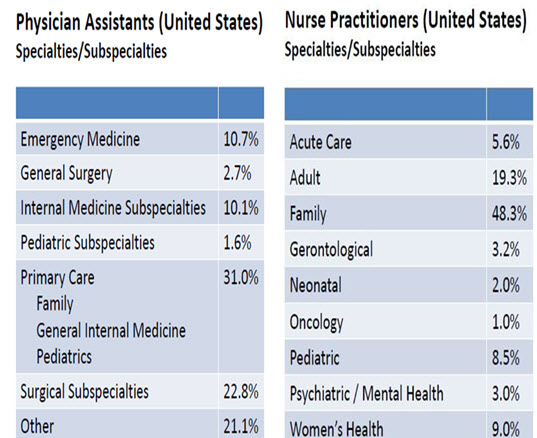 Please subscribe to automatically receive a notice so that you don't forget to read the next topic.