The "silver tsunami" is a metaphor used in the media and scholarly literature to describe this phenomenon of an aging population.
What Does a Silver Tsunami Mean for Pharma and Healthcare?
1. The overall health and prescription drug market will continue to grow. U.S. health care spending is projected to reach $5 trillion by 2023. People aged 65 to 84 spend double the amount of people who are 45 to 64, and the spending increases dramatically for those over 85 years old. Annual U.S. household medical drug costs will double from the current levels of just over $400 billion to $900 billion by 2050.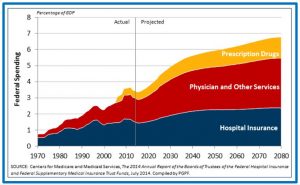 2. The pharma companies who focus on the entire healthcare team and consider comorbidities will be at an advantage as there will be a continued move toward more team-based care. Comorbidities are more prevalent in older Americans. Often, treatments that improve one chronic condition can negatively affect a second chronic condition so HCPs must consider the whole person rather than just one disease or organ at a time. HCPs in different specialties will have to communicate better with each other to provide the best overall recommendations and care for elderly with multiple chronic conditions. Interdisciplinary care includes not just physicians but NPs, PAs, nurses, social workers, pharmacists and therapists.
3. Pharmaceutical and biotech firms should increase focus on conditions that strike the elderly in large numbers such as dementia, stroke, cancer, heart disease, falls and arthritis. Due to the aging population, the number of cancer cases is expected to increase to 27 million by 2030. A new wave of start-ups is developing platforms, apps, and devices that aim to help older adults live independently. For example, "smart" pill boxes remind seniors to take their medications. The drugs and devices with the most potential are those that meet needs that will help seniors maintain independence and stay in their homes longer.
Are you doing enough to adapt to the changing patient demographics? Are you reaching all the HCPs including NPs and PAs in gerentology/geriatrics, home health aides and other HCP specialists who have the most contact with aging patients?
Please subscribe to automatically receive a notice and link so that you don't forget to read the next topic.