The CDC reports 20 to 30% of new prescriptions are never filledat the pharmacy (called primary nonadherence). A recent study found an even higher rate: 1/3 of patients failed to fill a first-time prescription. Getting providers to write scripts does little good if patients don't get them filled.
How can pharma help increase adherence?
A recent study on medication adherence in a nurse practitioner (NP) managed clinic for indigent patients revealed a surprisingly high mean adherence rate of nearly 80% despite the vulnerable low income population. NPs typically have
higher patient satisfaction rates compared to MDs,
spend more time with patients,
and follow a patient-centered model rather than a disease-centered model.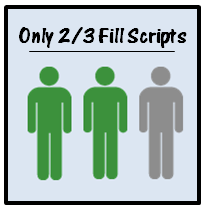 Is there a correlation? We think so. While, copay coupons and similar patient cost reducing incentives are part of the solution, there's more. Prescriber-patient communication and follow up appointments have been shown to increase adherence as well. NP/PA targets may be even more valuable than you realize due to their focus on adherence, patient education and satisfaction.
Next time you weigh NP/PA marketing targets against MD targets, consider not just how many scripts they'll write but also which are likely to get filled and which provider types increase long term patient adherence. For all prescriber types, pharma can and should spend part of the marketing budget to offer resources HCPs can share with patients such as education on the consequences of poor adherence and reminder tools or apps.
Please subscribe to automatically receive a notice and link so that you don't forget to read the next topic: "The Cost of Premature Medication Discontinuation"