Physician Assistants (PAs) continue to dominate the healthcare news. One recent article describes the ability and training of a PA to use a pair of augmented reality glasses to perform life-saving surgery on a wounded soldier in a remote location.
The PA trains to save lives, limbs and eyesight through telesurgery. With the latest technology, the PA can communicate with an on-call trauma surgeon more than 3,000 miles away through the communications link created by the glasses. The special glasses even allow the surgeon to draw or write directly within the PA's field of vision for a real-time team based procedure even when the surgeon isn't present.The article on army.mil describes the training conducted at Fort Bragg's Medical Simulation Training Center: "Based on a real life injury that caused the death of a Soldier in Somalia, the training helped explore a way that Physician Assistants can step in to perform lifesaving measures on a soldier injured in theater where there either isn't the time or the capability to get them to a surgeon immediately."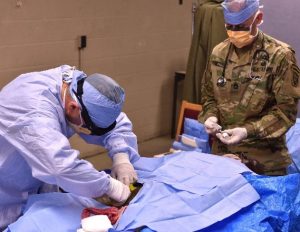 More PAs in the News
Another recent article in Newsday describes a PA who listened carefully and treated her patient successfully with an appropriate prescription after a physician rushed the visit, ordered a test without providing instructions, and dismissed the frustrated patient without treatment. The Newsday article describes the physician who made the patient wait a long time and then was too busy to listen for more than five minutes or take the patient's call afterward. In contrast, the PA impressed the patient by providing a very different experience and result. In this case, and many more like it, the patient had more trust in the PA. As a pharma or medical device marketer, it has become critical to focus on PAs and NPs who treat, prescribe, and influence patients sometimes as much or more than physicians.
Please subscribe to automatically receive a notice so that you don't forget to read the next topic.