Only nine percent of U.S. consumers believe pharmaceutical and biotechnology companies put patients over profits according to a Harris Poll released in Janurary. No industry is held in lower esteem than the pharmaceutical industry according to a recent Gallup poll. While many pharma companies develop and produce life-saving medications, only 31% of people believe pharmaceutical companies "offer high quality products and services." Only 26% think pharmaceuticals make a positive difference in the country.
Where Do You Fit?
Ask yourself: Do you want to join companies with tanking reputations or do you want to join the companies with the best reputations in the country?
Pharma's reputation problem can be a challenge but also an opportunity. If you can build your company's reputation as trustworthy and compassionate, you can really stand out from the crowd.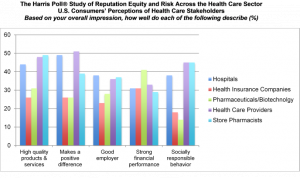 How to Improve
When asked where solutions to the health care industry's challenges will come from, more than half of U.S consumers (55%) answered health care providers, such as doctors or nurses. The first step to building a positive reputation for your company is earning the trust of HCPs. If you aren't sure where your company's reputation stands, there's no better time than the present to conduct market research, or cut straight to increasing and improving online communication with HCPs.
Please subscribe to automatically receive a notice and link so that you don't forget to read the next topic.