Less than 44% of physicians are accessible to pharma reps this year compared to 51% in 2014 and 65% in 2012. Nearly a decade of data has shown a steady decline in physician access according to ZS – a global consulting and research company. That's a big pharma marketing problem.
Two Part Solution
While a quickly eroding percent of doctors are accessible, a significantly higher percent of NP and PA prescribers (53%) are accessible. Another part of the solution is to reach HCPs online. A study by Capgemini Consulting shows 67% of prescribers prefer digital media such as email, website, and webinars for accessing information, versus 20% who prefer reps. It's not surprising that HCPs like the convenience of digital detailing, video, and webinars which can be viewed on demand. These methods are much less expensive than personal promotion through sales reps, and, in one survey, HCPs estimated that nearly two-thirds of their interactions came through non-personal channels.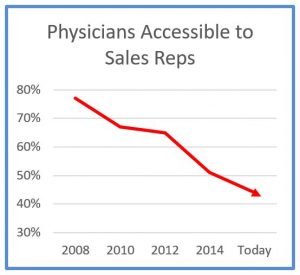 With a steady and continuous decline in MD access by sales reps, pharma has to get creative and increase their efforts to communicate better through: (1) digital non-personal channels, and (2) increased focus on NP/PA prescribers.
Please subscribe to automatically receive a notice and link so that you don't forget to read the next topic.