A recent report by Credence Research estimated the global medical robotics market will reach $20 billion by 2023.
Surgical Robots
The surgical robots segment commands the largest share of medical robot systems, due in part to the increasing preference for minimally invasive surgeries. Smaller incisions and increased precision due to technology have improved clinical outcomes. Many big healthcare companies as well as new tech start-ups are trying to challenge the dominance in the surgical robotics space of Intuitive Surgical, maker of the da Vinci surgical system.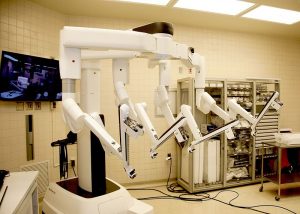 Beyond Surgery
However, surgery isn't the only category for robotics in medicine. Safety, better clinical outcomes, and reduced labor costs are leading to an exponential growth in demand not only for robotic-assisted surgery, but in many other segments of healthcare such as sanitation, sterilization, lab processing, pharmacies and materials handling. Certain robots can even take your blood sample. Another exciting area is micro- and nanorobots that are as small as a pill. There are numerous projects in the works to develop microbots that can travel through bodily fluids to deliver medication exactly to where it's needed, or even to repair damaged cells. This is an area to which pharma marketers must pay attention because it has the potential to change drug delivery and minimize pharma side effects by sending medications directly to parts of the body where they're needed. In fact, the FDA has already allowed Proteus Digital Health to market a swallowable technology: a single-square-millimeter silicon circuit that can be embedded inside a pharmaceutical pill.
What Does This Mean For You?
As a pharma or medical device exec, are you doing enough to educate HCPs and other decision makers about your current and expected technological advances through CEs, webinars, podcasts and other online methods to reach key opinion leaders? Although HCPs are invaluable for many processes that require decision making and empathy, robots have the ability to enhance human capabilities and free busy HCPs from repetitve tasks. With the HCP shortage, long appointment wait times, and exciting technological advancements, robotics growth is expected to be exponential for at least the next 5 years. How will you take advantage of this growth opportunity?
Please subscribe to automatically receive a notice and link so that you don't forget to read the next topic.