Pharma companies lose $188 billion each year because patients don't take their meds.1 Let's delve deeper into three specific ideas pharma marketers can use to reduce the medication nonadherence problem.
Nonadherence Solutions
Nurse educators are ranked as one of the top 3 most successful tools that can affect adherence.1 "Nurses or physician assistants are in the ideal position to increase adherence -they can establish contact with patients and they are trusted. There should be special training for them and a change in the system to foster this," explains a pharma executive.1 Pharmas can and should provide NPs/PAs and nurses education and video resources about the importance of adherence for these HCPs to share with patients. Reminder apps and tools to help reduce a patient's likelihood of forgetting to take or refill a prescription is also a good idea for pharma companies to offer
Other industries understand it costs less to retain an old customer than to gain a new one, therefore, most businesses focus on customer services and loyalty programs. Pharma companies need to re-focus their strategies around this idea and consider adherence early during drug development and launch.1 Psychiatrist Dr. Jay Pomerantz has some ideas:
"Drug companies can help by shifting part of their detailing focus away from the current obsession of getting clinicians to prescribe new drugs to new patients to supporting and encouraging maintenance therapy.
To further motivate and to reward persistence, manufacturers might, in cooperation with pharmacies and prescribers, provide discounts on long-term maintenance medications or offer a 1-month supply of medication at no charge for patients who fill, for example, 11 monthly prescriptions in a row.
The idea is to offer a bonus, rewarding patients in a tangible way for their brand loyalty and also facilitating and encouraging the continued use of a particular medicine." Overall, more of a focus should be on current patients rather than gaining new ones.
Jay Pomerantz goes on to offer other ideas including an essay contest with a prize for the best submission written about how ongoing treatment has affected the person's life.2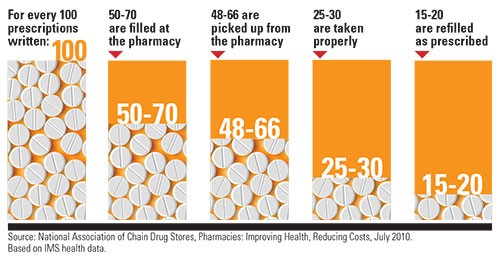 Are you taking all these steps and do you have other ideas you can share in the comments?
Please subscribe to automatically receive a notice and link so that you don't forget to read the next topic: "Do NPs/PAs Specialize?"