Extended Reach to Pediatric HCPs
PHARMA EXTENDS HCP REACH AND EDUCATION
Problem
A global pharmaceutical company was promoting a program to educate nationwide pediatric healthcare professionals about a specific medical risk in children. The company sought more program signups and improved program awareness as soon as possible.
Solution
NP/PA Engage proposed a 3 month campaign to reach the highly targeted audience of healthcare professionals in multiple ways. To broadcast the messaging, NP/PA Engage used a variety of tools including a web resource center, banner ads, email campaigns and newsletter insertions.
Results
Within the first 90 days, NP/PA Engage reached over 50% of the total healthcare professional targets in the U.S. which represented over 33,000 unique viewers of the program information. Over the 3 month campaign, NP/PA Engage delivered: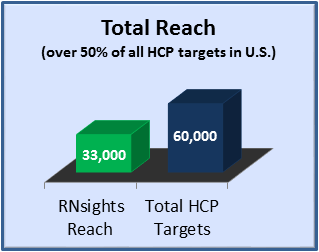 90,000+ views
5,000 individual healthcare professionals to the pharmaceutical company's website signup page
an average email and newsletter open rate over 18% (more than double the industry average)
The pharmaceutical company has now returned to NP/PA Engage for multiple successful campaigns and projects reaching different HCP targets.